Leave a comment.
Comments are moderated and will appear after review by the editor. Comments with hyperlinks are not allowed.
©2009 DeFuniak Springs, Florida.
H & M Hot Dog
43 S. 9th Street
DeFuniak Springs, FL 32435
850-892-9100
* Call ahead for faster service. *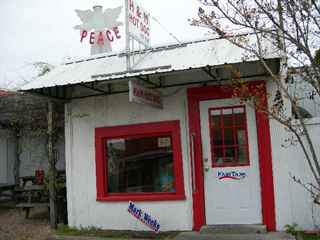 The only place in the area serving the famous Chicago-style hot dog and sandwich
Oldest hot dog stand in Florida
Voted #1 hot dog by the Ft. Walton Daily News
Hours:
Monday - Friday from 9:00 a.m. - 5:30 p.m.
Saturday from 10:00 a.m. - 4:00 p.m.
History of H & M Hot Dog:
In 1947, Harley & Margaret Broxson started a hot dog stand in a little 12 foot by 18 foot metal building on Ninth Street in DeFuniak Springs, Florida—they called it H & M Hot Dog. That same year, I ate my first H & M hot dog and never forgot it.
Between 1947 and 1964, H & M changed hands and ultimately came under the ownership of Harold and Hilda Carpenter (Harley's niece) and, at that time, the grill was installed and the first hamburgers were served.
In 1972, Harold and Hilda employed Maggie. In 1974, Maggie's sister, Merle, joined the H & M family. For thirty years, Maggie and Merle operated H & M and became two of the most loved people in Walton County.
When Maggie and Merle retired on Saturday, December 28, 2002, people from all over gathered for a two and one-half hour celebration that was broadcast on local radio and at which the Carpenter children and grandchildren served over 500 free hot dogs.
H & M Hot Dog has faithful customers from all over the world. It has been written about in newspapers and magazines—including Southern Living. It has been spotlighted on television.
In October 2002, Harold, a high school classmate, told me that Maggie and Merle were retiring. I was concerned that H & M might suffer the fate of so many other similar institutions and close. With that in mind, my wife, Lora, and I—neither of which had ever been in the food service business—came out of retirement, bought H & M, and opened for business on Monday, December 30, 2002, and today you can still enjoy the best hot dogs and hamburgers in that same 12 foot by 18 foot metal building on Ninth Street.
We have made some changes.
While the hot dogs and hamburgers that made H & M famous are still prepared and served in the same way—no hot dogs or burgers are prepared until they are ordered and cooking time for a burger is still twelve minutes (longer when we have more orders than will fit on the grill)—and we have added made-from-scratch coleslaw, sauerkraut that I cook personally, chili that could be eaten from a bowl if we served it that way, and Polish sausages that are deep-fried in olive oil.
On June 13, 2003, we started our H & M Kids Book in which we have pictures of our customers who are under the age of 18 years—with some special older "kids"—and expect to have over 700 pictures in our 2003 album.
We installed a telephone and you can, for the first time ever, call in and order out. Our number is (850) 892-9100.
We changed our hours. Over the years, H & M served a lunch crowd Monday through Saturday, closing between 2:00 PM and 3:00 PM. We are still open Monday through Saturday, but our hours are now 9:00 AM until 5:30 PM.
When you are in DeFuniak Springs, visit our local Walton County museum (it's in the old train depot on Circle Drive overlooking beautiful Lake DeFuniak) and see the H & M Hot Dog display. Then come and experience the history, the heritage, and just plain good hot dogs and hamburgers.
- - Written by Dan Bodiford
Map of 43 S 9th St
Defuniak Springs, FL 32435-1732
Directions to 43 S 9th St
Defuniak Springs, FL 32435-1732